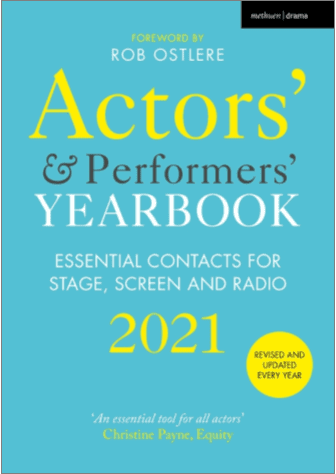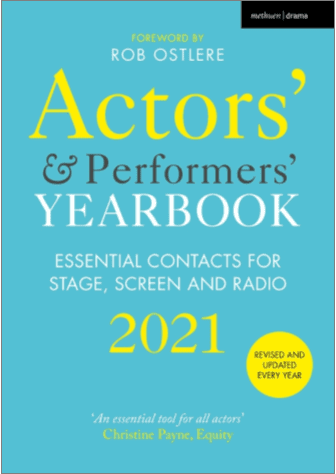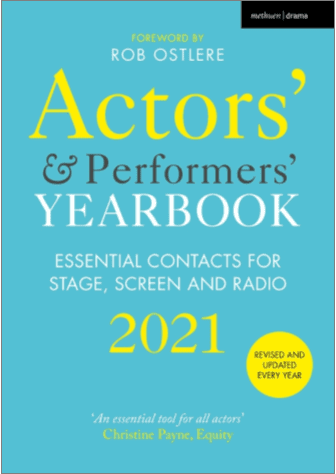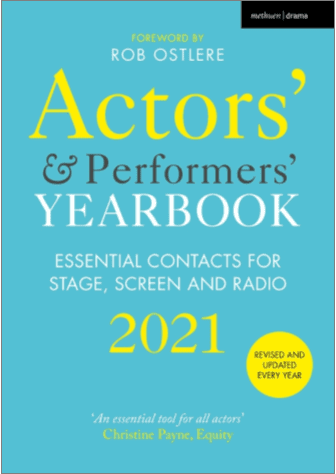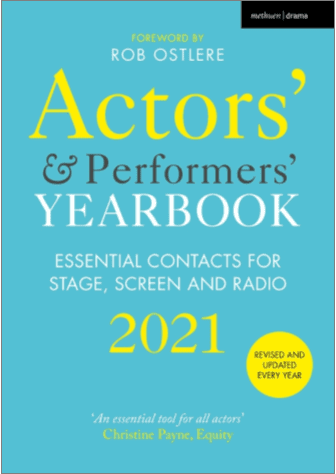 Extract from Actors' and Performers' Yearbook 2021: Rob Ostlere interviews David Mumeni
November 27, 2020
Acting, Book Extracts
Actors' and Performers' Yearbook 2021 publishes this month! This year we were lucky enough to have our fantastic author of The Actor's Career Bible and actor Rob Ostlere write a new foreword and conduct some invaluable interviews. The yearbook is a directory that supports actors in their training and search for work on stage, screen and radio. It is the only directory to provide detailed information for each listing and specific advice on how to approach companies and individuals, saving hours of further research.
The listings have been fully updated and there are articles on topics such as mental health, building your brand on social media, routes into stand-up and opportunities for actors in the North-East. Here's a sneak-peak of an interview with David Mumeni about actors from working class backgrounds. It's time the industry corrects itself, and the below sheds light on steps that can be taken:
Levelling the playing field: actors from working- and benefit-class backgrounds
David Mumeni, actor and founder of Open Door
Interview by Rob Ostlere
David Mumeni is a performer, writer and acting teacher, and the artistic director and founder of Open Door, a charity supporting young people who want to apply for drama school but face financial barriers. Open Door offers an eight-month part-time intensive course, with successful acting and production arts applicants receiving free auditions and financial support for interviews, as well as mentoring and a range of other help. David trained as an actor at Drama Centre and has gone on to work extensively at the highest levels of the industry. Here he talks about the need for organisations like Open Door, makes the case for drama school training and shares advice for students and those in the first few years of their careers.
What were you seeing in the industry that led you to create Open Door?
It was about addressing inequality by making sure that everyone who wanted to go to drama school got their fair go. Part of that was making the audition process affordable for young people from working- and benefit-class backgrounds, and also finding talent from places outside London.
As well as finding these young people, mentoring them and supporting them financially with applications, you've also been working directly with the schools to make changes?
Yes, for example getting a wider intake of people by pushing the drama schools to do more auditions across the country. Or pushing to change the audition panels, making sure they're diverse in all the different ways, be it class or race or gender. We also looked at the way the panels sometimes behaved. It's not about having to be super, super nice but if you don't create a space that allows someone to be comfortable they're just not going to do their best work. I've also been talking to the schools which don't redirect actors in the first round. What we've seen with some of our young people we mentor – who maybe haven't had access to youth theatres or good drama departments at school – is that they can transform and be amazing simply by asking them the right questions: ''What's this speech about for you? How do you relate to it? What do you want? Who are you speaking to?'' You're expecting all these young people to all come in at the same level and they're not. You have to give redirection in the first round.
And the drama schools have taken all this on?
Not as urgently as we'd like. There's a lot of work that still needs to be done but some have been really responsive. The auditions have changed. The schools are looking at the curriculums and the classes they teach. I think Sarah (Frankcom) taking over LAMDA is really exciting. She has the artistic side but also used to work in a school and helped set up a lot of the youth provisions in Manchester. It's good that someone understands where young people are coming from, especially those from outside London.
You've previously made the case brilliantly for drama schools.
Well, you do learn there! Acting is a skill, and you get the chance to practice doing that every day. Whereas if you go straight into the industry, you're not necessarily going to do that much acting, especially to start with. Even if you did a couple of plays and a week on a TV series that's only sixteen or seventeen weeks' acting. And that's in a good year!
And you've done a lot of myth-busting. One idea that comes up is that the schools are too expensive, but you've managed to get all these great students in from lower income backgrounds
With the schools we work with there is no such thing as too expensive because the big ones all have student finance. Affordability is only a problem with schools that don't have that; although the privately-run drama schools do offer bursaries and DaDAs (Dance and Drama Awards), it can still be a struggle. With the loans – it is a debt, of course it is – but you're only going to pay that back if you earn enough. Also, with most of these big schools there's massive bursary funding to assist with living costs. And we've highlighted the issue at schools where they might need more.
And students get a lot for their money, relatively?
People are paying nine grand a year to go to an amazing university but they're doing three or four hours a week contact-time in a lecture hall full of people. Drama school, you get triple that in a day with some of the best teachers in the country in a room of sixteen to twenty people. And then you get a showcase at the end!
With Open Door you've given advice to students about changes in the industry, especially casting and how that impacts choosing material for their showcases
With showcases, I say to the students worrying about type-casting that agents are going to assume you can do different stuff and are going to try to put you up for as much as possible.
So just show you, rather than worrying about, ''What do I need to present to be signed?'' Present good acting. Rather than trying to fit yourself into some archetype, pick pieces that might be challenging when you're working on them but that when you perform you can do them with some ease. That sort of thinking applies throughout your third year. Your main focus has to be on acting to the best of your ability, being a nice person when you chat to people, and hopefully things will happen for you.
What about auditioning advice?
It's the same thing we tell the Open Door young people when they audition; you've got no control over what this panel thinks. One panel might like you, one panel might not. Your job is to go, ''This character is connecting with this character, I'm playing this objective. I'll do my interview, show you what I'm actually like and then leave. If you don't like it, you don't like it''. There's power in that. That's some of the work we do at Open Door. It takes eight months to get a young actor to a place of confidence where they realise they have no control over what people think. All you can say is, ''I did the best job I could do in the circumstances that were given and in the time I had''.
Talking about the industry more widely now, how do people balance having an awareness of inequalities without letting that preoccupy them and hold them back?
It's really hard to quantify why you are where you are in your career. If I think about my mixed-race background, perhaps it's got me this far because I'm a little bit different to other people but it might have limited me in all these other ways. The point is it's really hard to be sure of whether something doesn't happen for you because of your class, your race or your accent or whatever. Of course, that's not to deny that those barriers aren't there. But if you go around thinking everything you don't get is because of that, I don't think that's a healthy way to look at it. Wherever you can, separate the two: ''Have I not got this because the industry is tough?'' or ''Have I not got it because of a barrier?'' Sometimes it might be very clear, and I've felt that. But I've come up against these barriers and I've done OK so my thought is let me try and help others with solutions.
And actors can take positive steps themselves to address inequalities?
When I started Open Door people said to me, ''You're creating these actors but there's no work for them''. I feel like it's a little bit different now and I don't have that fear. Of course, there are still a lot of the same types of writers working but people are breaking through and people do want to hear original stories and original voices. But if that work isn't being made for you, you can create it. And that doesn't mean you have to write it. I've known lots of people who wanted to change agents for example, and put on a show to do that. They've not been able to write something but they've said I'm going to get my friend to write it, and I'm going to get my director-friend to direct it, and another actor in to play this part and develop it. And sometimes that play goes on further: to Edinburgh, another theatre, into TV development.
It's important to balance focusing on the problem and the solutions?
We have to find ways of using the passion and the anger, putting it into some sort of positive action that is effective. We need tangible solutions, schemes and work: be it writers' programmes, or things like Sabrina Mahfouz creating a scheme for ethnic minority theatre critics, or something like Open Door. Next, we need to start supporting new voices in producing; to see more diversity among the people in charge.
To find out more about Open Door and to apply, go to www.opendoor.org.uk. You can support the charity's work by following them on social media @opendoorpeople and donating at www.opendoor.org.uk/donate
Buy Actors' and Performers' Yearbook 2021 and The Actor's Career Bible from Bloomsbury.com